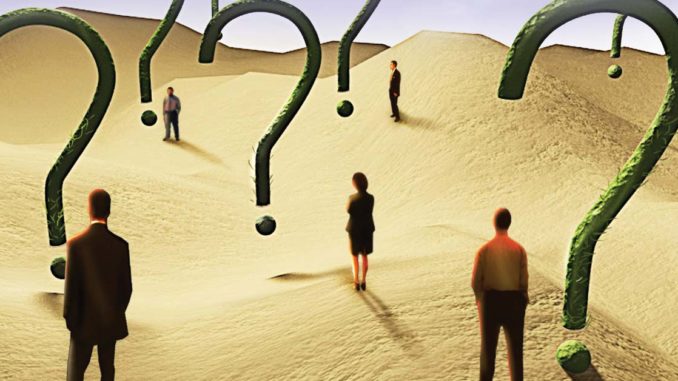 Vreme zaista leti, za dve godine treba da napunim trideset godina i to mi stvara puno anksioznosti i osećaja krivice.
Anksioznost se stvara dok mislim o svojoj budućnosti, a osećaj krivice dok razmišljam o prošlosti.
Da se razumemo nisam baš mnogo traćila prošlost, ali nisam ni postigla sve ono što sam želela, ali malo je onih koji to jesu uradili. Toliko sam se zaglibila sa ovim osećanjima da sam napokon rešila da nađem psihologa, osobu koja će mi pomoći da malo više razumem sebe i zbog čega se osećam toliko beznadežno. Malo sam se raspitala i našla jednu zaista odličnu devojku koja se bavi geštalt psihologijom, to je poseban pristup koji se bavi svim aspektima jednog bića, koliko sam razumela. Na našem prvom sastanku, pitala me je koja su moja očekivanja, tj. šta želim da postignem kroz naše seanse? Moj cilj – sitnica, želim da odrastem, da napokon krenem da radim i da lakše prihvatam realnost. Odredila je da termin bude jednom nedeljno, što je meni naravno delovalo suviše malo, znam sebe toliko, hoću brzo da rešim pitanje svoje egzistencije, to je moja luda glava. Na našoj trećoj ili četvrtoj seansi konačno sam počela da opipavam problem, u pitanju je konstanta klackalica koja me drži u statusu quo, na jednu stranu ja mislim da sam zaista malo uradila da postignem svoje ciljeve, a na drugu stranu, ja želim da što pre ostvarim sve svoje ciljeve. E sad tu uvek čovek nešto previdi, ciljevi se menjaju kroz život, a mi uvek možemo želeti  još nešto da popravimo, i to tako i treba da bude, jednostavno nema konačnog rešenja, to je život, a ne matematički problem. Naravno sve ovo nije neko prosvetljujuće saznanje, to je nešto što sam i ranije znala, pa zašto onda lupam glavom o zid i zašto se toliko samosažaljevam?
Postoji taj neki pritisak društva da je trideset godina neko konačno odredište, to je vreme kada život treba da se pretvori u matematički problem sa konačnim rešenjem, do tada treba da znaš svoju vokaciju, da se već neko vreme baviš njom, treba da si već našao svog životnog partnera i vreme je da osnuješ svoju porodicu. To nije jedina nerealna tačka do tada, sa 15 godina si već trebao da odlučiš u koju ćeš srednju školu da ideš, a sa 19 moraš da odlučiš na koji ćeš fakultet ili da li ćeš da kreneš da radiš. Zašto baš 30? Pretpostavljam da to dolazi iz nekog ne tako davnog vremena, kada je u životu bila važnija funkcionalnost, a ne sreća. To i nije bilo najbolje rešenje jer se čovek definitivno buni protiv toga. Sada smo u drugoj krajnosti, mora se biti srećan po svaku cenu. Lično verujem da je istina negde između, jer niti se može biti srećan na silu, i ne može svako da juri za srećom dok juri za golom egzistencijom, ali svakako egzistencija po svim pravilima, ubija volju u čoveku. Zadnjih deset godina, otprilike, događa se poplava motivacionih govornika. Svi oni kažu da nikada nije kasno, da samo treba da zapneš ka svojim snovima i uvek misliš pozitivno. To je užasno važno, moraš uvek misliti pozitivno, moraš biti pun energije, zdrav i jak i sve će doći na svoje mesto. I tu je još jedna zamka u kojoj kreneš da kriviš sebe za sve što ne možeš. Šta ako zaista ne znaš svoj cilj? Ka čemu da guraš? Šta ako zaista nemaš energije? Gde da je nađeš? Šta ako ti kriza i sva ta očekivanja što od sebe, što od drugih, zaista ne daju mesta za pozitivizam? Da li si ti onda totalni promašaj?
U razgovoru sa svojim vršnjacima zaključila sam da smo svi u istom sosu i istoj panici. Jedan drugar mi je rekao da ima trideset godina i da nema ni zanimanje, ni mačeta, ni kučeta, živi kao podstanar i oseća da je totalni promašaj.  Jedna drugarica mi govori da uveliko kasni sa svojim životom, veruje da neće naći partnera i da je kasno da nađe svoje zanimanje i u njemu se ostvari. Mnogi se pak tada mire sa situacijom, kažu da će raditi bilo šta, i to je ok, važno je imati novac za egzistenciju. Ali isto je tako važno ne mrzeti svaki dan koji na tom radnom mestu provedeš. Dakle ova kriza nije nešto umišljeno i pogađa nemali broj tridesetogodišnjaka.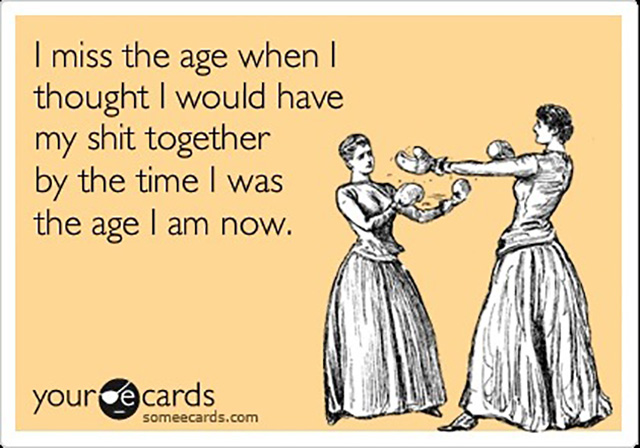 Očigledno je da je život jednačina sa bezbroj nepoznatih i nemoguće ih je sve  ukopčati za ograničen broj decenija koje imamo, ali eto, treća decenija, ti si odrasla osoba, kako smeš da sada znaš manje nego ikada do sada?
I zaista osećam da sada znam manje nego ikada do sada, i vidim da mnogi sada znaju manje nego ikada, ustvari tu kreće da te udara realnost, sukobljava se sve ono što si želeo za sebe, sa svim onim što te je sprečilo da to ostvariš i zaista si u krizi. I šta onda dalje? Ni tu naravno nema konačnog odgovora, ali evo par mudrosti moje geštalt psihološkinje, i naravno da je sve to i dalje otkrivanje rupe na saksiji, ali ne bi bilo loše zaokviriti ih i utuviti sebi u glavu.
Pitanje vokacije –  To je nešto što možeš donekle trenutno da odrediš, to nije alfa i omega. Kroz život će ti se menjati interesovanja i prilike i ko zna gde će te sve to odvesti. Ono što možeš jeste da eksperimentišeš sa zanimanjima i poslovima dok ne uočiš šta ti trenutno najbolje ide.
Ali vreme prolazi! – Naravno da prolazi, ali moraš polako, ako želiš brzo upadaš u taj začarani krug, klackalicu, za sve je potrebno vreme, ne može ništa sada i odmah.
Pitanje ambicije – Negde se oformilo mišljenje da nisi kompletna osoba ako nemaš mnogo ambicija, ali ambicije mogu biti opake zamke koje te bacaju u anksioznost.
Pitanje umora – Zadnjih par godina sam se zaista trzala, išla na silne radionice, seminare, upoznavala razne ljude, volontirala, radila na sebi, drugim rečima kucala na sva vrata. To nije dovelo de rezultata. Znam mnoge ljude u ovakvoj poziciji. U redu je priznati sebi umor, zaustaviti ceo proces i napraviti pauzu. Vidiš da nešto ne donosi rezultate, sada trebaš da probaš na drugi način. Ne vidiš trenutno drugi način, to je ok, umoran si, odmori se.
 Nauči da budeš u toj praznini – Dok ne napipaš tačku B, moraš biti u toj praznini i moraš da se pomiriš sam sa sobom, ne da kriviš sebe i ne da nabijaš sebi anksioznost. U mom slučaju pitanje je bilo, da li je zaista toliko strašno da budem samo domaćica? Meni jeste toliko strašno, zato to nije nešto gde ja treba da stanem.
 Mali ciljevi – Tačka B je taj mali cilj, tačka B nije naći svoj put u životu. Koja je tvoja tačka B? Ne zna se, za svakoga je nešto drugo.
I da zaključim, kriza tridesetih godina je za mnoge realnost, ali pitajte sebe koliko tu ima udela spoljnih pritisaka koji zaista nisu realni? Nešto što nije realno, ne može da vodi nigde sem u anksioznost, da li nam ona zaista treba? Ne rešava ništa i stvara nam teskobu, tako da nam definitivno ne treba, ali biće tu da nas kljuca sve dok ne naučimo da je nekako pobedimo, drugim rečima, moramo naučiti da budemo nežni prema sebi, ali isto tako ne smemo odustati od sebe, eto još jednog nimalo lakog zadatka, jer život i nema lake zadatke…